I love my bluetooth speakers and sport a wide range of them and today we have a new company on board by the name of  TIBO-ELECTRONICS  and they have sent us out a pair of Bluetooth Speakers that are made with quality materials and to top it off POWERFULL SOUND.
I was not expecting much from these off the bat as it is a new brand but I was wrong. The build quality is excellent and looks really well no matter where you rest them and they can be moved anywhere and you are not restricted to just using Bluetooth either. These can be hooked up to your TV via audio cables which are provided or OPTICAL. If you have and optical connection I suggest you use this as it works better and for all things connected to your TV the sound will shine through and it is loud.. Very Loud and just how I like it.
These will shake the flooring in your house and your sofa will vibrate they are that loud and it immerses you into the picture you are watching or music you might be streaming. Set-up is simple and the materials used here are not cheap either with crappy connection points. You will see all there is to see in the video review below…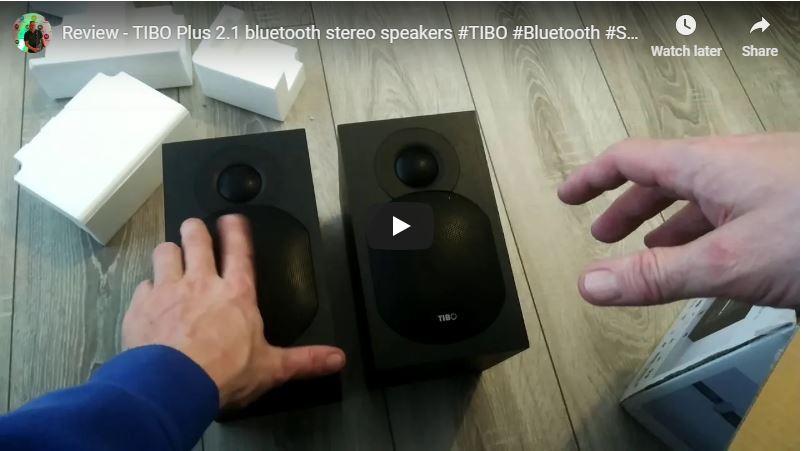 TIBO Plus 2.1 Bluetooth active bookshelves speaker system will provide remarkable sound in multiple set-ups. Supported by 2 x 35W amplifier, 32mm soft dome and 100mm woofer are a unique design, the Plus 2.1 powered Bluetooth speakers also come with standard RCA and 3.5mm connections to connect just about any Hi-Fi source. For TVs, CD/DVD, game consoles, and Blu-ray players there is an optical digital input. Still not enough bass? Use the sub output to connect to a subwoofer. With built-in amplification, there's no need for a separate amplifier. Containing a Class D digital amplifier, the Plus range is more than capable of filling a room with music. Simply plug the active speaker into the mains and connect the other, passive, speaker via conventional speaker cable. You can listen to music from just about any source – even via wireless Bluetooth using the TIBO Plus range.
Simply pair the speakers with your Bluetooth enabled device and stream your music library, internet radio, or services like Spotify, TIDAL etc. at CD sound quality. The Plus 2.1 can be added to a smart home audio set-up by adding a TIBO Bond, part of the TIBO Ecosystem. You will be able to stream Worldwide digital internet radio via your own Wi-Fi and pre-sets for easy access to your favourite radio stations and online playlist. TIBO products offer the latest technology in both product development and design, delivering perfect sound in fully digital high-resolution audio. For speakers that blend quality sound with style and connectivity, the TIBO Plus range is a winner through and through. Box Contains pair of speakers, remote, cables.
SPECS
2x35W Powered Active Bluetooth Hi-Fi Stereo Speaker System with an elegant and immaculately finished cabinet

Perfect speakers for PC, studio, turntable, DJ system, and TV

1x Sub out for connecting to external subwoofer for extra bass

Multiple inputs: 1×3.5mm mini jack, 1xoptical and 1xRCA Line

Easy to use remote control provided
Source from: JIM O BRIEN / TECHBUZZIRELAND.COM